The Get Down | PLSN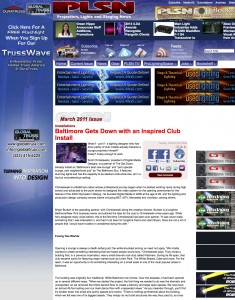 What if – just if – a lighting designer who has done plenty of club installs actually became a lounge proprietor himself?
Crazy? Crazy enough to work. Scott Chmielewski, president of Digital Media
Designs, is a partner of The Get Down. Already hailed as "Baltimore's best new lounge" and "part upscale
lounge, part neighborhood pub" by The Baltimore Sun, it features stunning lights and has the capacity to be stadium-rock-show-like, all in a hip-but not-pretentious setting.
Chmielewski is a Baltimore native whose professional journey began when he started working raves during high school and advanced to the point where he designed the video system for the opening ceremonies for the Games of the XXIX Olympiad in Beijing. He founded Digital Media in 2005 at the age of 25, and the lighting and production design company serves clients including BET, MTV, Mercedes and Univision, among others.
Bryan Burkert is the operating partner, with Chmielewski being the creative director. Burkert is a longtime Baltimore/New York business owner and pitched the idea for the club to Chmielewski a few years ago. While he's designed many clubs before, this is the first time Chmielewski has been club partner. "It was never really something that I was interested in, and had it not been for longtime friend and client Bryan, there are not a lot of people that I would have trusted or considered doing this with."
Fusing Two Worlds
Opening a lounge is always a death-defying act; the white-knuckled among us need not apply. "We mostly wanted to create something interesting that we hoped people would love," Chmielewski says. They chose a building that, in a previous incarnation, was a small dive-ish rock club called Fletchers. During its life span, that club became iconic for featuring major names such as Linkin Park, The White Stripes, Cake and more. For the team, it was an opportunity to do something interesting on a small scale in one of the most popular areas in Baltimore.
The building was originally four traditional 1920s Baltimore row homes. Over the decades, it had been opened up in several different ways. "When we started the project, the first thing we wanted to do was the dramatic and unexpected, so we removed the entire second floor to create a balcony and large open spaces. We now have an almost 40-foot ceiling over our main dance floor with unexpected views." As you meander through, you'll find it's broken down into small and quirky spaces and rooms. "There is nothing symmetrical about the building, which we felt was one of its biggest assets. They simply do not build structures the way they used to, so once we stripped everything back to its original surfaces, the place almost designed itself," he says. "From classic broken brick and shale stone to the large wood and metal beams that were used in the original construction, we had to design and light these classic and otherwise nostalgic features of the building."
By fusing technology and art, the old building was reborn, immersed in color and media. Chmielewski explains that they wanted to see if they could create the pizzazz of a sophisticated lounge but still be as comfortable as the great neighborhood bar that was in the space previously. "We really wanted to do something that we would love to be involved in and to not try to run it like a money machine," he says. Table service is available, but if it's not sold by a certain time, it's available to anyone. There is a cover charge on the weekends, but getting on the guest list is as simple as signing up on their Facebook page.
Chmielewski worked closely with his partner Burkert to design and implement the entire space, from original concepts of architecture to the furniture and art, to the lights. Aside from a few 1920s way-cool Edison carbon filament light bulbs, it's a very LED world with an extra dollop of media. "We are pushing around 40 universes of DMX in addition to Catalysts and media servers."
Designer's Sandbox
Chmielewski's approach was personal, and the arsenal was LED. "With this being a personal endeavor, as a lighting and production designer I was able to explore ideas and concepts that have been circling in my head over the years. The most critical part was to create an immersive environment without being overbearing. There are literally thousands of LED fixtures in the building, but you can only see a small amount of the light sources. Almost every surface in the building is lit, but there is a certain mystery to most people about how and where the lighting fixtures are placed."
The LED and lighting in the building is controlled from an E:Cue software package, and two Catalyst media servers control the large LED wall and the LCD monitors that are scattered throughout the venue. The Catalysts are also controlled via Art-Net from the E:cue system. All of the color-changing LED fixtures are Traxon products. "I chose the E:Cue system for both its amazing ability to deal with that number of LED fixtures and its abilities as a stand-alone architectural and entertainment control system. I needed a system that could stand alone." The system is programmed to be fully automated, from the work lights used by the staff when they come in to the high-energy effects that are used for dance nights. It runs a full weekly cycle without anyone having to ever touch the system.
He adds that it is completely customizable and the easy-to-use interface makes it easy to control. Specifically for The Get Down, it allows anyone on their staff to start or stop the programs, give client demos and give the DJs some energy buttons all without ever having to worry about training someone or having someone make changes trying to operate a system.
A clever, classy touch are those 1920s Edison lamps, which he used as a "signature" of the lighting design. "I found a company that specializes in these and each one is hand blown and uses a real carbon filament," he explains. "There are six different styles of these lamps with different filament mountings and sizes and shapes." Forty of these adorn a small lounge area aptly called the Edison room. There they hang, just a few inches over the patron's heads, and they only power them up to about 10 percent of their maximum intensity, creating a warm quality of light.
That slight indulgence aside, it's a energy-efficient lounge. Other than appliances like coolers and fridges, the entire space runs on the equivalent of six 20 amp circuits. Designing and running an energy-efficient lighting system is something Chmielewski sees as an obligation. "We live in a time where it
really should be the only way to design a new space, and I think it's irresponsible to not work in that manner," he states emphatically. "There was no compromise on anything we wanted to do and, in most cases, you can't tell the difference. It's a great conversation piece, but we don't market ourselves as being green." Environmental concerns were included in almost every decision when choosing materials, finishes, and décor elements. They went with synthetic and recyclable flooring materials, and, rather than buying it new, they got most of the furniture from the Club Roxy in New York, which closed in 2007. It was reupholstered with recycled fabrics.
Chmielewski the designer didn't make any compromises with Chmielewski the co-partner. "I can honestly say that there were not any significant changes from the original concept to the finished product," he says. "We were able to take our time in design and construction, and I had a clear design intent from the beginning. There were, of course, a few changes in finishes and surfaces in the end, but this one came together very much as planned." And while the designer/partner combo might be cause for "showing off," Chmielewski purposely showed restraint. "There's a saying I use all the time, and it's this: 'Just because you can, doesn't mean you should.'"
As for Chmielewski, you'll find him at one of his favorite spots, just leaning over the balcony or people-watching from a corner. "I love to watch people become intrigued with the space and the lighting."
[articlequote]"We live in a time where it really should be the only way to design a new space"[/articlequote]