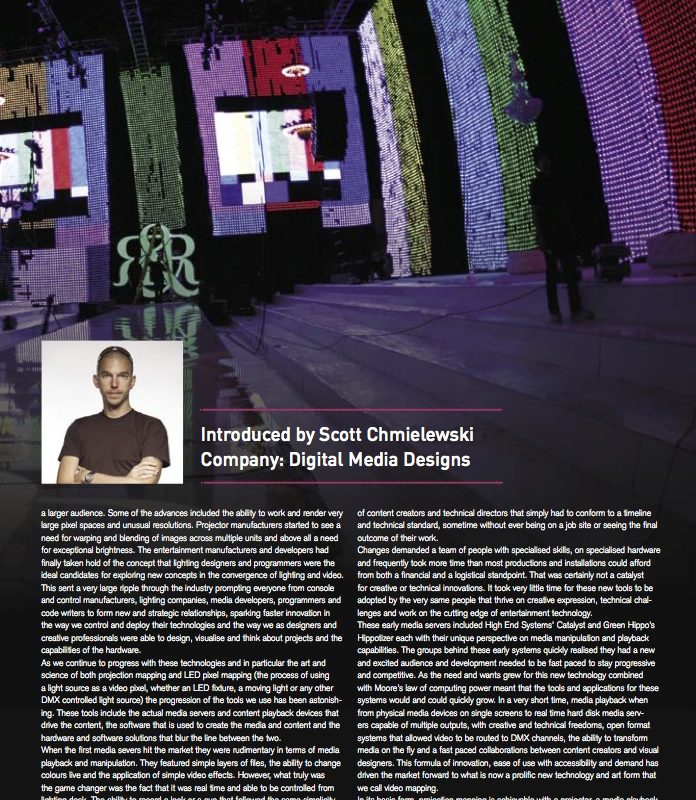 Mondo Article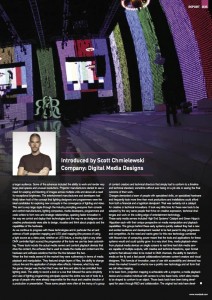 Mondo Breif- January 2013
It might be time to redefine the pixel…. Having started very young as a rebellious 15 year old sneaking out to night clubs and raves int he early dance music scene in the north east US. I was fortunate enough to come up be introduced to the entertainment industry through a path of technology and challenge that helped build the creative professional that I have become today and has certainly been the foundation for helping build the small company that I have grown and operate, DigitalMediaDesignsnet, Inc.. I like to take pride in the notation that DMD is considered a cutting edge and progressive production design studio consisting of lighting and production designers, programmers and media specialist and that we have become a resource and asset to a diverse diverse range of clients including tours, concerts television, digital lighting and innovative design and installations including public art and presentation, modern branding, training, testing and R&D.
We have been fortunate enough to be involved in numerous unprecedented events and use of technology including the Beijing Olympics and in some cases being the first in the world to see or use new technologies being involved in some of the earliest forms of digital lighting, and uses of media including the introduction of Catalyst Media Servers, HighEnd Systems DL1, DL2,DL3 and Axon. Without Highend's specific vision and in particular Richard Bellevue's unique perspective on the way we use entertainment technology, we might night be where we are today and certainly would not be as far. That vision drove very clearly the use of moving head projectors, pixel/LED mapping technologies and as of late the many applications and uses of projection mapping and the convergence of technologies. These technologies have become both accessible and affordable in both hardware and software combined with a willingness to push the creative and technology limits by both clients and designers has lead us as an industry into this new breed of literal projection mapping around the world. By projection mapping, I of course mean using projection as a texturing and surfacing method on the most complex of surfaces and buildings. This goes well past simple shaping of a projection beam to fit onto a surface but more warping and wrapping to literally fit every surface, curve, angel and nuance of a structure or object to create stunning and visually compelling presentations of lighting, video and LED technologies.
[articlequote]"It might be time to redefine the pixel….".[/articlequote]